We are pleased to announce that another ALBEDO connector just gained Recommended status from demanding independent Audiocavi testing board.
This time inexpensive Blue proved its class as an excellent performer for money ;]
We have already discussed about Albedo not so far back  carrying out the test of their Flat One interconnect..
At that time we were very pleasantly surprised by the quality that Polish connector had been able to deliver.
The Test
In Bydgoszcz's manufacturer catalogue  Blue range is second from the bottom, just over intro level Beginning and under mentioned above Flat One. Next to go are Geo, Monolith, Versus and top of the line Metamorphosis.
Before we finally tested the Blue , we kept it running over a  month  to settle up. Such is  usually done with different  combination of electronics and different pair of speakers. Here: Monitor Audio Gold GX 300 amplifier connected to Jeff Rowland's Continuum 500 with our usual Atlas Mavros, and Opera Reference source CD2 .
After an hour or so of playing music in the background, just to warm electronic system up and without too much focus on the nuances, the feeling of Albedo family firm sound became immediately present stealing our attention and proving to us clearly that we dealing again with a product holding unquestionable quality sound.
The sense of cleanliness, transparency and precision has spread to all of us a desire to push it even more into music territories  which are more complex and as such offering  to our  CD player a chance to go deeper with  our analyses and findings  regards Albedo Blue. With "Brothers in Arms by Dire Straits, where the music ranges from very high to very pianissimo with bandwidth extension and dynamic drive, the Albedo Blue behaves well. Guitars are in the foreground, in the centre, where they must be, and the notes are articulated with precision and clarity. The speed in reproduction of complex musical tapestry is remarkable and whole dynamic benefits from that without sacrificing detail. Tones in general are consistent, and the average highs are rhythmic, stinging when necessary, but not raw. Highest range is one of its strengths. Every extended, refined, gentle and precise at the same time, such that we feel the shimmer of cymbals and shrill notes of the keyboard with  realism worthy of praising.  The stage is large both horizontally and vertically. We found greater extension in the horizontal plane, where the music comes and spread well beyond our speakers. Micro contrast is very good and the notes produced in the mid range are accurate without smudging or opacity and absolutely never mixed or confused, but clearly recognisable without necessarily go into an analysis too. All this leads the listener to feeling hardly any fatigue.
With "Collegeum Aurem" Vivaldi concerto for violin in E flat major, the instruments are played with realistic dynamic and show a wide range of colours with silky tonal balance and no trace of discoloration or stridor.
In the middle range the difference between the Blue and Flat One, is not so marked and comparing sustainable. The Flat One seems to go a little deeper with an analysis that leads us to  more rigorous scene details transfer reproduced with  greater respect for instruments location on stage in upper registers. As we have already pointed out, if the Blue contend on equal terms with his older brother without highlighting differences and authority, definition, dimensionality, colour, and transients speed, but it's about all. The bass is played without gumming or rumble effect and remains  free from any compression effect.
On few tracks Blue didn't appear so granite and extended to impress, but in any case very good in price range under test. Perhaps in this range is the main difference between the Flat One and Blue, but in any case the general "good" of the family of "Poles" is always noticeable.
Conclusions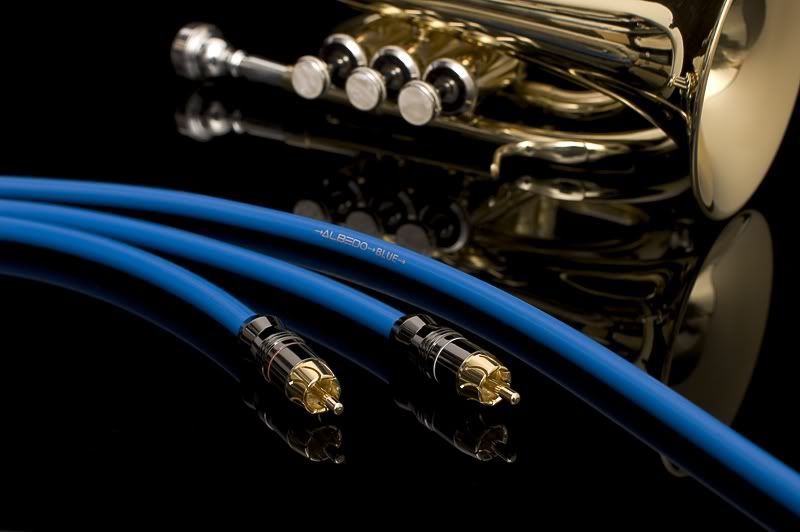 In relation to its purchase price Albedo Blue has unsheathed respectable performance. Although not reaching the levels of range extension as the elder brother Flat One, it keeps family sound flavour and do everything you would  ask this cable for. It is an excellent choice for cleaning, transparency and dynamics in general. In particular, for those who wish to purchase a product of excellent quality , with great musical talent, and a slight preference for the medium-high range, without spending a fortune, this cable is highly recommended.
For us it holds our Audiocavi.com 5 star verdict well deserved.
——————————————–
AUDIOCAVI.COM
Gianni Doriani
For finding more about Audiocavi policies regarding testing procedures which had been clarified to me, after my own inquiry  – please go to this post, where  all is explained.